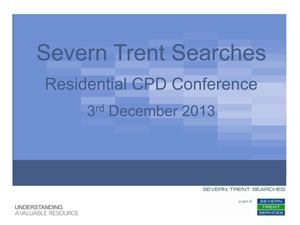 Severn Trent Searches Conference  held at the Hallmark hotel in Derby
This year's conference covered the latest developments with the CON29DW drainage and water enquiry and recent re-ordering of the search.

Also discussed were the on-going changes in legislation, including the next phase of the private sewer transfer and the forthcoming changes in adoption procedures. The water industry, including Severn Trent, is working alongside DEFRA to ensure the changes are implemented as successfully as possible.
Our colleagues from Landmark made a presentation on flood risk, and the Land Registry outlined their proposals around Local Land Charges.