This page gives examples of typical drainage arrangements for different types of properties. Although sewers are generally laid in the most obvious manner, factors such as topography of the land and rights of access can play a part.  It should not be inferred that these examples apply to all properties.

TYPES OF PROPERTIES
Terraced
A lot of terraced properties were constructed prior to 1937, and the sewers serving these were transferred as part of the Public Health Act of 1936. The majority of sewers serving these properties will therefore already be public assets and hence will be plotted on sewer plans. However this previous transfer did not apply to lateral drains. Another common arrangement for terraced properties is for a shared sewer to run to the rear of the properties, and then in passageways between properties to join the main sewer in the street.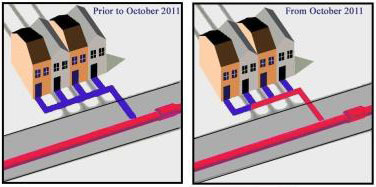 Semi-Detached
Semi-detached properties will generally share a sewer, either to the front as shown above, or to the rear of the property. Post transfer, the section of lateral drain located in the downstream of a property's land will be maintained by the water company, as will the shared sewer.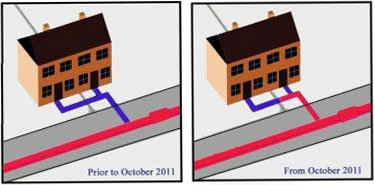 Detached
A detached property will normally be connected directly to the public sewer. Post transfer, the lateral section of the drain is maintained by the water company. Detached properties can also be connected via a shared private sewer, which will be the responsibility of the water company post transfer.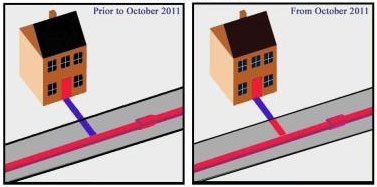 Flat
Following the transfer, sites with shared drainage systems, such as a block of flats, will retain ownership of any pipework within the property boundary. Anything outside the boundary of the property will transfer to ownership of the water company.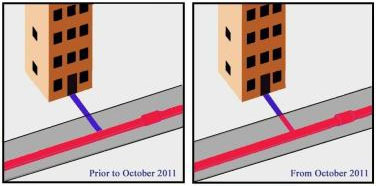 Should you be required to know the exact details of the drainage arrangements within the boundary of your property, Severn Trent Searches are able to offer a survey at an additional cost showing the location of public and private assets in the vicinity of the property.