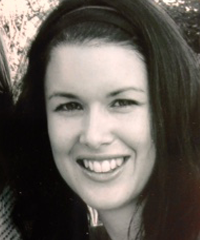 Kate Lester
Affinity Manager
Kate Lester is our long-serving, acronym-loving, name-dropping Affinity Manager. She manages the relationship between Severn Trent and Homeserve, who provide emergency plumbing and drainage cover (amongst other things) to Severn Trent Water's customers. We're not 100% sure what that involves, but she's been doing it since some of our staff were in primary school, so she must be good at it.

How long have you been with Severn Trent?
I joined Severn Trent in 2000 – so a massive 17 years ago. Time really does fly!
What does your job involve?
I am the Affinity Manger working in STRUS (that's 'Severn Trent Retail and Utility Services' to the uninitiated, the part of Severn Trent which includes both Kate's team and Searches). My role is to manage the partnership between Homeserve and Severn Trent. Homeserve home assistance products (for plumbing and drainage cover) are offered to Severn Trent domestic customers.
What's the best thing about working at Severn Trent?
Meeting new people and working with the people in my team. I have worked with some great people over my time at Severn Trent. Many people here have really inspired me and through them I continue to learn and develop new skills.
What's the most embarrassing thing that's ever happened to you at work?
I attended a first aid course as I thought it would be a useful skill to have both in and out of work – turns out I wasn't a natural! When the trainer got to the subject of 'blood loss' I started to feel very hot and weak, the next thing I remember is waking up on the training room floor – I had fainted! The best bit is that the rest of the class thought I was role playing as part of the demonstration!
 What do you do in your spare time?
I have two lovely young children that take up a lot of my spare time! I also like to run, do exercise classes, cook, go on holidays and spend time with my friends and family.
Tell us something surprising about yourself?
I'm struggling with this one! I really dislike naming dropping but the only surprising fact I can think of is that my brother-in-law is a BAFTA-winning director (Shane Meadows). This has led to me being an extra in a few of his films! Blink and you miss me! (It's true. Through this nepotism, Kate has earned the dubious honour of being the only one of our staff with her own IMDB page).