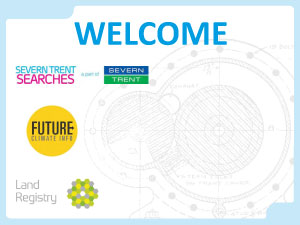 A big thank you to everyone who came to our recent CPD at the Nottinghamshire Golf and Country Club.
The event, held on Tuesday 4th October was attended by many solicitors and conveyancers throughout the region, who assembled to hear our three speakers.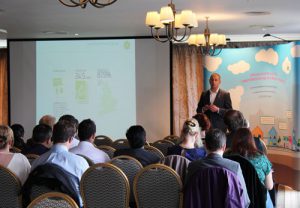 Following a buffet lunch, the first speaker was the Land Registry's Jamie Winch. Jamie is a regular speaker at our events, and provided an update on the Land Registry's project to take over Land Charges searches from local authorities. Several attendees expressed an interest in attending an upcoming Land Registry conference Jamie referred to.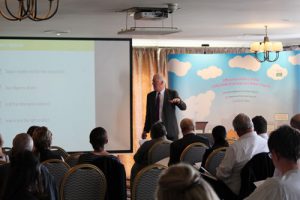 Our next speaker was Geoff Offen, the managing director of Future Climate Info. FCI are one of several providers of environmental searches we use, and their innovative range of searches have proven a big hit with our customers. Combining environmental, flood, ground stability and energy & infrastructure into a single report, FCI's reports exclude areas where there's no hazards, meaning the report only highlights those areas of potential concern. You can read all about FCI's reports on their product page.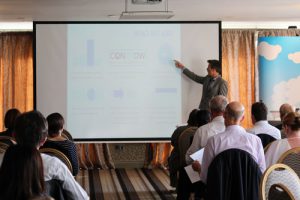 Finally, following a tea and coffee break (or, as we christened it, a 'tee and coffee break' since we were at a golf club), was Severn Trent Searches' own Owen Davies. Owen's our Business Development Manager, and has been presenting on the CON29DW drainage and water enquiry for around nine years.
One of the things we do at CPDs is ask attendees to fill in a feedback form, so we can see what they thought of the event, and we're pleased to say that the feedback we received was very positive. If we were prone to cheesy golf jokes (we are), you could say that most people thought we were 'over par' (we're so sorry).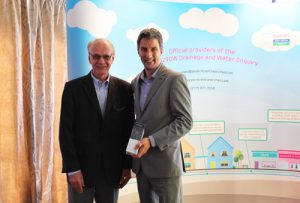 Congratulations to Barry Webster of Websters Solicitors Ltd for winning a fitbit fitness tracker in our event prize draw.