On 1st October 2011 the majority of private sewers and lateral drains in England and Wales transferred into public ownership, meaning they are now the responsibility of the relevant sewerage undertaker. This was the biggest change in sewer ownership since 1989 and has a number of implications for property owners, as well as conveyancers.

Within the Severn Trent Water region an estimated 37,000km of transferred sewers and lateral drains, and 4000 private pumping stations* transferred.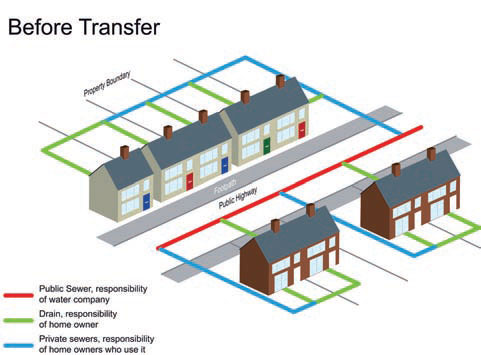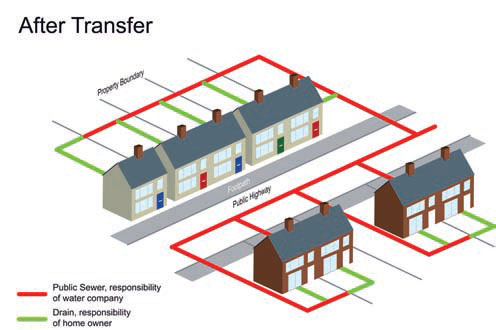 WHAT HAS TRANSFERRED
The following assets have transferred as part of the scheme:
Private sewers (a sewer is defined as a disposal pipe serving two or more properties).
Lateral drains (a drain is a disposal pipe serving one property. A lateral drain refers to any section of the drain falling outside the property boundary).
Sewers on Crown Land (e.g. MOD sites & prisons) were automatically included in the transfer, but were given the option of opting out.
Private Pumping Stations and associated pressurised mains which serve two or more properties (water companies were given until October 2016 to adopt these).
In addition to the sewers and lateral drains themselves, all ancillaries such as manholes and access chambers transferred.
The transfer also applied to eligible sewers undergoing adoption procedures under Section 104 of the Water Industry Act (1991).
WHAT HASN'T TRANSFERRED
The following assets have not transferred as part of the scheme:
Private drains within property boundaries.
Sewers owned by Railway Authorities.
Sewers and drains which do not discharge to the public system, including surface water sewers that drain direct to watercourses.
Self contained sewerage systems.
Drainage systems contained within a single property curtilage (e.g. retail parks, caravan parks).
Private pumping stations and associated pressurised mains which serve one property.
Sewers where the owner successfully appeales to OFWAT to retain ownership. (Appeals had to be in within two months of notification of the transfer).
Sewers undergoing the appeals process. These will remain private during the appeals process.
Private treatment works, septic tanks and cess-pits.
TIMESCALES
Regulations dealing with the transfer became law from 1st July 2011.
The transfer is being completed in 2 stages.
The first stage applied to assets connected to the public sewerage system prior to 1st July 2011. These transferred on 1st October 2011.
The second stage applies to assets connected after 1st July 2011. This second stage has been indefinitely postponed by DEFRA.