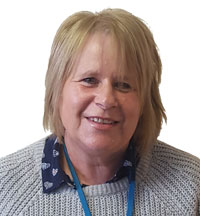 Jane Wilmot
Customer Service Specialist
Jane Wilmot is our Customer service specialist. It's Jane's job to be the first point of contact for all our customers, and spends her days talking to all the wonderful customers who phone up to say nice things about us (at least, we think this is what they're doing, we've not actually asked). Want to know how long a search will take? Query a search result? Discuss the intricacies of Downton Abbey? Give Jane a call.

To help you get to know our staff a little better, we asked Jane some quick-fire questions…
TV dramas or reality TV?
TV drama.
What's your pet hate?
Crumbs on the kitchen floor.
What was the first music album you ever bought?
T-Rex.
Walking Dead or Game of Thrones?
Neither.
What's your favourite season of the year and why?
Autumn because of the trees changing colour.
What was your first car?
Mini metro.
What's the first thing you would buy if you won the lottery?
A house.
Tea or coffee?
Tea.
What's your favourite hobby?
Gardening.
Name a celebrity/idol you would love to meet
Matt Damon.
What's your favourite drink?
Jack Daniels and coke.
Your celebrity crush?
Martin Shaw.
What's your favourite sport (playing or watching)?
Tennis.
In three words, how would you describe your personality?
Fab U Lous.
The favourite place you've gone on holiday?
Cyprus.
What's your dream holiday destination (that you haven't visited)?
The Maldives.
What are you afraid of?
Water.
What's your favourite board game?
Scrabble.
What's your favourite TV show (current or all time)?
Poldark at the moment.
Have you ever committed a crime?
But of course.
What would your specialist subject be on Mastermind?
Downton Abbey.