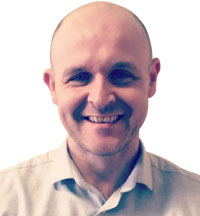 James Crabtree
Senior Business Development Assistant
James Crabtree is our senior business development assistant. Amongst other things, he's our in-house designer, meaning anything you receive from us (such as our newsletter, Searchlight) will have been lovingly hand-crafted* by James. He's also in charge of this website, meaning we can't make fun of his bizarre tastes in music or weird man-crush on Dwyane Johnson he's a wonderful person to work with and a constant source of joy for all his colleagues.
* possibly PhotoShopped.
To help you get to know our staff a little better, we asked James some quick-fire questions…
What book are you currently reading? And what's it about?
Career of Evil: Robert Galbraith (J.K.Rowling). In brief it's about a private detective and his secretary who are trying to find a serial killer, though there's much more to it than that. The Cormoran Strike detective series books are very absorbing.
What's your pet hate?
Misuse of the word 'irony.'
What was the first music album you ever bought?
Please don't judge me – Pump up the jam by Technotronic. I have been informed by my colleagues that I don't have very good taste in music. (Editor's note – we won't embarrass James by naming some of the albums he owns, but he has shocked us on more than one occasion with his unique tastes.)  
What was your first car?
An old Mark IV Escort that I kitted up to look like an XR3i, it was a rust bucket death trap but I still loved it.
Tea or coffee?
Coffee if it's good quality, like a Nespresso or Caffe Nero.
Name a celebrity/idol you would love to meet
The Rock – A great athlete, successful actor and comes across as a really nice bloke. For nostalgic reasons I'd also have to mention Alan Shearer and Jean-Claude Van Damme.
What's your favourite drink?
Southern Comfort or other liquor-type spirits.
Your celebrity crush.
Gal Gadot or Natalie Portman.
In three words, how would you describe your personality?
Grumpy, stubborn and creative.
The favourite place you've gone on holiday?
Prague, a very beautiful place to visit in the winter.
What's your favourite TV show (current or all time)?
My favourite current show is 'The man in the high castle,' but all time is between Supernatural, Dexter, Criminal Minds and Lost.