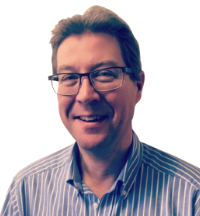 Andrew Worrall
Business Support Coordinator
Andrew Worrall is our Business Support Coordinator. If you're not sure what that means, don't worry, neither does anyone else!
Andrew's duties include everything from facilities management, to training (and we mean that in the loosest possible sense), to  business development, to providing an endless stream of what we'll politely call "dad jokes."
To help you get to know Andrew a little better, we asked him some quick-fire questions…
What book are you currently reading? And what's it about?
Absolute pandemonium by Brian Blessed (it's about Brian Blessed). I've only just started it but I've decided I'm GOING TO READ IT OUT LOUD!! . .REALLY LOUD!!
Walking Dead or Game Of Thrones?
Oh definitely Walking Dead, although I'm not afraid of slow moving, dishevelled, unintelligible creatures. I have three teenagers of my own.
What's your favourite season of the year and why?
Quite like autumn (if it's a dry autumn). Love the colours of the countryside, especially if I'm in the Lake or Peak District.
What was your first car?
My Dad's old 1975 Austin Allegro. Metallic bronze and rush (mainly rust). Terrible . . and wonderful if driven without regard for your own safety.
Tea or coffee?
If I had to choose, tea. Could live without coffee, NOT without tea.
What's your favourite drink?
Severn Trent Tap obviously (that's a given) and I do like a G&T or a craft beer, but if I could only drink one thing for the rest of my life, as I said, it would probably be tea.
Your celebrity crush.
I am very keen on Alyson Hannigan (y'might need to Google her) but I've realised she reminds me of my wife; so that's probably alright . . isn't it??
What's your favourite film?
I'm embarrassed to say, it's probably a comedy called Hobson's Choice, made in 1954, in black & white but directed by David Lean and full of great comedy performances . . if you are an old fossil like me.
What do you regret not doing?
In the early '80s I got the chance to join other UK students on a trip to Russia. Really regret not going because it was still Brezhnev's Russia. The Russia that John Le Carré wrote about; and that Russia doesn't exist anymore.