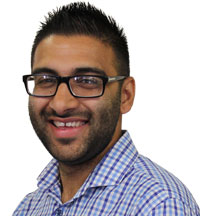 Afsheen Azizi
Production Manager
Afsheen Azizi is our production manager. This means he's responsible for ensuring all the searches from our customers are completed in a timely, accurate manner. Strictly speaking, he's got a team who do most of that for him, but he's the manager so he gets the credit, which is essentially what management's all about. When he's not managing people, Afsheen enjoys giving rather uninspiring answers to trite questions:

How long have you been with Severn Trent?
I started in September 2001, so over 15 years within Severn Trent Searches.
What does your job involve?
I oversee the timely and accurate completion of all the businesses portfolio of products.
What's the best thing about working at Severn Trent Searches?
I would say the environment and culture that's been set, we're able to interact with others frequently as well as maintain a good work/life balance. We all work in an open-plan office and we encourage staff to get up stretch their legs, liaise with other teams both to get the job done and to socialise.
What's the most embarrassing thing that's ever happened to you at work?
I've been pretty lucky not to have experienced too many embarrassing moments during my time here. I see myself as the office prankster, so it's usually me putting others in embarrassing situations. However one December we ran a '12 days of Christmas' competition, and one of the events involved singing an embarrassing song in front of the whole office. This was the one and only time I will ever be doing karaoke, which I won but that success wasn't worth the endless embarrassment and nightmares. (Editor's note: Having witnessed Afsheen's rendition of It's Raining Men, we can testify he has the voice of an angel. Not necessarily an angel possessed of any musical ability, but an angel nonetheless. )
What do you do in your spare time?
I'm married with two children who both, like myself love football. So when I'm not taking them to training or match days we all love to watch a movie and the occasional computer game which I always beat them on and they don't like losing.
Tell us something surprising about yourself?
I wouldn't say it's really surprising from what I said above, but due a serious knee injury a few years ago I spent so much time at football training with the kids I decided to move into coaching. Over the years I've have had some great feedback and hold various coaching badges.