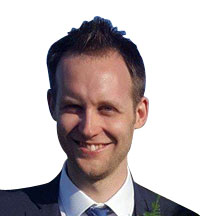 Adam Carter
Business Improvement Manager
Adam Carter is the Business Improvement Manager at Severn Trent Searches. As we're pretty much perfect anyway you'd think this would be an easy job. However, Adam's responsible for the thankless task of designing and maintaining our IT systems. From our online ordering system to the programs that our technicians use for ordering and completing searches, Adam is responsible for making sure they all run smoothly.

How long have you been with Severn Trent?
11 years.
What does your job involve?
Managing the day to day support of our IT applications, their ongoing maintenance plus planning and developing their improvement.
What's the best thing about working at Severn Trent Searches?
Managing a vast array of different systems all the way through from design to implementation. As I've been with the company such a long time I have also been able to see these through to their retirement and next new system come along.
What's the most embarrassing thing that's ever happened to you at work?
Forgetting about a Bank Holiday once and turning up to work – but luckily nobody was around to see my mistake!.
What do you do in your spare time?
I like watching films and TV plus playing football and long distance running.
Tell us something surprising about yourself?
My background wasn't originally IT but in engineering. I worked in a team of five that built a buggy that achieved 750+ miles per gallon at Silverstone in the economy challenge!