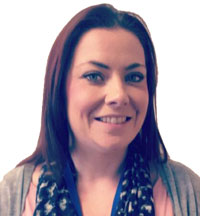 Carrie Jackson
Business Support Senior Technician
Carrie Jackson is our Business support senior technician. It's her job to assist our Business improvement manager, both in ensuring our IT works correctly, and in developing improved systems. Basically, it's Carrie's job to make sure everything works perfectly without crashing/exploding too often and our customers have 'hakuna matata'* when using our systems (it's a Disney reference. It'll make sense later).

To help you get to know our staff a little better, we asked Carrie some quick-fire questions…
What book are you currently reading? And what's it about?
Daughters of Eden, it's about a woman who end up working for the secret service in WW2.
TV dramas or reality TV?
TV Dramas!!!
What's your pet hate?
Reality TV.
What was the first music album you ever bought?
Robbie Williams – Life Through a Lens.
Walking Dead or Game of Thrones?
Neither.
What's your favourite food?
Chinese or Sunday Roast.
What's your favourite season of the year and why?
Summer obviously. [note: Carrie is notoriously adverse to cold weather, and is famous for wearing multiple layers of clothing in the office, even in the middle of summer]
What was your first car?
Hyundai Getz.
What's the first thing you would buy if you won the lottery?
I would travel first then worry about what to buy after.
Tea or coffee?
Tea.
What's your favourite hobby?
Travel.
Name a celebrity/idol you would love to meet
Marcus Mumford.
What's your favourite drink?
Red Wine.
Current favourite band/singer?
Mumford and Sons.
Your celebrity crush?
Tom Hardy.
What's your favourite sport (playing or watching)?
Formula One, obviously watching that.
In three words, how would you describe your personality?
Friendly, thoughtful and generous.
The favourite place you've gone on holiday?
West coast America.
What's your dream holiday destination (that you haven't visited)?
The rest of America.
What's your favourite film?
I don't have a specific favourite but I love anything Disney!!
What are you afraid of?
Heights scare me a little, can't say I have a phobia of anything.
What's your favourite board game?
Mad Gabs.
What's the best gift you've ever received?
Life.
What's your favourite TV show (current or all time)?
Emmerdale.
Have you ever committed a crime?
No.
What would your specialist subject be on Mastermind?
Disney.
* It means no worries, for the rest of your days