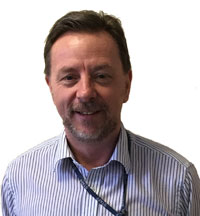 Mike Dyche
Customer Contact Team Manager
This month we'll be talking to customer contact team manager Mike Dyche. Besides a fondness for '80s band The Smiths and an inexplicable devotion to Stoke City (he's a masochist), Mike manages our customer team. This includes our phone staff, as well as the team dedicated to answering any queries our customers may have about searches.

How long have you been with Severn Trent?
I have worked for Severn Trent for over 20 years, of which 16 years have been with Searches.
What does your job involve?
Managing the Customer Contact team to ensure that we respond to customers as promptly, as fully and as helpfully as possible.
What's the best thing about working at Severn Trent Searches?
I'm fortunate to work with some lovely colleagues.
What's the most embarrassing thing that's ever happened to you at work?
A squirrel managed to find its way into our former office and ran amok for several seconds before it finally escaped. I totally lost it and screamed like a banshee! I've never lived it down. (We can attest to this. Mike was presented with a toy squirrel to mark the occasion, which still sets on his desk to this day).
What do you do in your spare time?
I love my sport and outdoor pursuits so I try to keep as fit and active as possible, for a man of my advanced years!
Tell us something surprising about yourself?
Over a Bank Holiday weekend several years ago I cycled the whole length of the River Trent from its source in the Staffordshire Moorlands to the point where it meets the Humber estuary. I think it was about 120 miles. The river passes through many personal landmarks and seems to act like a link connecting various parts of my life.